About Us
Durance Tree Service of Jacksonville is dedicated to providing the highest quality of service possible. We are a licensed and insured tree service that offers free estimates. Additionally, we are a family owned and operated business. Our entire family is fully invested in the company and committed to giving you the level of service you deserve. We follow up with each and every one of our clients after a job is completed so we can make sure they are satisfied. Our company is very proactive and is a customer oriented business. Call us or email to schedule an estimate. If you would like to find out more about our company, we encourage you to read more below.
Any Tree Small or Large, We Can Do Them All.
Durance Tree Service provides both residential and commercial tree services. A large majority of the jobs in which we are hired are for residential properties. However, we also have extensive experience in the commercial tree service industry as well. Whether you simply need residential tree trimming or have a large commercial tree removal project, we are the right tree service to call. Our company has the necessary equipment to handle any size of tree trimming or tree removal job.
If you think it is too late at night to call our company, think again. Trees and tree limbs don't always fall when it is convenient, that is why we provide 24 Hour Emergency Tree Service. Emergency tree services are an important part of our business, especially during hurricane season. We respond to calls during all hours of the night so we can help Jacksonville residents in their time of need.
Services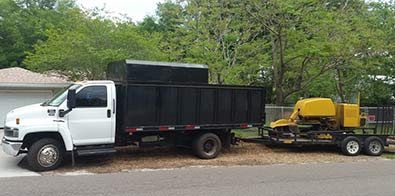 Tree Removal
Tree Trimming
Tree Pruning
Bush Hogging
Bobcat Work
Stump Grinding
Stump Removal
Firewood
Durance Tree Service has been in business since 2008 and we look forward to serving the great people of Jacksonville with our professional tree service for many years to come. Call us today and find out why we're trusted all across the Jacksonville area when somebody needs tree service done properly and professionally.
Contact Information
(904) 449-2848
durancetreeservice@yahoo.com
treeserviceofjacksonville.com



Licensed & Insured




24 Hour Emergency Service




Mon - Sat 8:00 am - 6:00 pm
Sun 8:00 am - 2:00 pm





We serve the entire Northeast Florida area including:
Jacksonville, Jacksonville Beach, Ponte Vedra Beach, Atlantic Beach, Neptune Beach, St. Augustine, Fernandina Beach, Fleming Island, and Orange Park.
©
2016-2018 Durance Tree Service Jacksonville

904-449-2848
Privacy Policy
|
Terms & Conditions